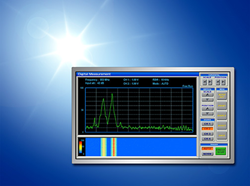 (PRWEB) May 09, 2014
Tianma NLT America (TNAM) has announced the introduction of a new 15.6-inch wide WXGA a-SI TFT LCD, developed by NLT Technologies. The LCD features a long-life white LED backlight unit that provides high luminance with lower maintenance costs for equipment and reduced environmental impact.
With a brightness of 1100 cd/m2 and a high contrast ratio of 900:1, the LCD provides excellent viewability even in high ambient light environments, making it ideal for outdoor displays used in a variety of industrial applications as well as marine, construction, ATM and a range of other equipment used in high ambient light conditions. Its long-life 70,000-hour LED backlight results in minimal maintenance cost and lower environmental impact since the backlights consume limited power, are mercury-free and meet all other requirements for RoHS compliance.
The new module provides dependable performance over a wide operating temperature range of -20 to +70 degrees C, guaranteeing stable operation even in extreme temperature environments.
Typically, displays used in outdoor environments are equipped with high-power backlights in order to achieve sufficient viewability when exposed to strong light such as direct sunlight. Under these conditions, LED backlights tend to require greater power consumption in order to achieve sufficient luminance to be visible in outdoor settings, which, in turn, shortens the backlights lifespan. The new module has met the challenge of achieving longer backlight life and reducing maintenance costs by optimizing the heat dissipation performance of the backlight.
This new 15.6 WXGA LCD will be demonstrated at SID Display Week, June 3-5, San Diego, CA, in booth 1320.
For more information, contact Tianma NLT America, Inc., 2801 Scott Blvd., Santa Clara, CA 95050. 1-408-816-7010; marketing(at)tianma-nlt(dot)com; http://www.tianma-nlt.com.
About Tianma NLT America

Tianma NLT America, Inc. (TNAM) was established in November 2013 as a joint venture between Shanghai AVIC Optoelectronics Co., Ltd. and NLT Technologies, Ltd. TNAM is focused on providing the Americas with LCD products specifically for industrial and professional applications. With an extensive lineup of 2.X to 21.X-inch active-matrix LCD modules and a network of best-in-class distributors and value-added partners, Tianma NLT America provides complete display module solutions to a broad base of customers and applications. The range of LCD modules offered includes ultra-high resolutions, wide temperature ranges, high contrast ratios, rich color gamut, backward compatibility, LED backlights, and transflective viewing for use in diverse lighting environments.
Tianma NLT America is committed to delivering innovative, high-performance, eco-conscious LCD solutions that address the diverse size, power and high image-quality needs of our industrial, medical, professional and high-end monitor customers. Based on technologies developed by NLT Technologies and other Tianma Group companies, the LCD modules are optimized and designed for a wide range of applications, including portable and stationary medical equipment, test and measurement devices, instrumentation equipment, point-of-sale and ATM systems, gaming systems, global positioning systems, radio-frequency identification devices and barcode scanners.
Additional information can be found at http://www.tianma-nlt.com.
The content in the press release, including, but not limited to, product prices and specifications, is based on the information as of the date indicated on the document, but may be subject to change without prior notice.
Related Eco Press Releases