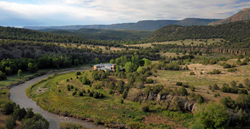 Santa Fe, NM (PRWEB) June 13, 2014
Swan Land Company of Bozeman, Montana announces it has listed Jane Fondas Forked Lightning Ranch for sale for $ 19,500,000.
Fonda purchased the Ranch, which is 25 minutes from Santa Fes Historic Plaza and near the town of Pecos, NM, in 2000 and spent two years analyzing every nuance of the Ranch in order to perfectly site her personal dwelling, known as River House. The approximately 9,585 square foot home, recently featured in the March 2014 issue of Architectural Digest, incorporates Fondas vision for an energy efficient, personal space that embodies the traditional adobe architecture renowned in the area. The Ranch also includes the Hacienda a 2,125 square-foot guest home as well as a 3,409 square-foot Log House, a 12-stall Equestrian Facility and a gym.
Great care was taken by Fonda to create a sustainable environment through responsible land stewardship and meticulous river restoration on the 3.5-mile stretch of the famed trout-rich Pecos River, one of the finest fisheries in New Mexico, that bisects the Ranch. Adjoining the Ranch boundary to the north and east are 311,040 acres of the Pecos National Forest, part of the 1,558,452 acre Santa Fe National Forest.
"Forked Lightning Ranch has been a sanctuary and a place of great joy and recreation for me and my family, said Fonda. Many changes have occurred in my Iife since 2000 and I am no longer able to spend as much time on the Ranch as I once was. I feel the time has come to pass the Ranch on to a new custodian of this enchanted place.
The Ranch has a significant history; in 1925 the iconic rodeo promoter and King of the Rodeo, John Tex Austin purchased a series of parcels from the Pecos Pueblo Grant, calling the acquisition Forked Lightning Ranch. Famed architect John Gaw Meem was commissioned for the design of the ranch compound. Austin capitalized on the popularity of dude ranches hosting dudes who paid money to herd cattle from Chicago to the Forked Lightning Ranch; he also was widely known for popularizing rodeo. After Austin defaulted to the bank, the Ranch was purchased and expanded by E.E. Buddy Fogelson, who married Hollywoods Oscar-winner Greer Garson in 1949.
Nearby Pecos Pueblo, dated to the 15th Century, is a lasting relic of the Pueblo Indians known to have inhabited the area as early as 800 AD. The Pecos River Valley later served as a natural portal for those traveling between the Sangre de Cristo Mountains, the southern-most extension of the Rockies, and the Great Plains. Evidence of the wagon route, pioneered by homesteaders and military, still mark the eastern property boundary of the Ranch.
We are honored to be the brokerage representing this significant piece of New Mexicos history, said Mike Swan, owner and managing broker at Swan Land Company. This Ranch is unparalleled in its offering of elegant living combined with carefully guarded wilderness, a fine trout fishery and proximity to Santa Fe, one of the countrys most sophisticated, culturally-rich and oldest capital cities.
Fondas extensive personal collection of antiques, artwork, rugs, furniture and her literary collection at River House are available for purchase as well as the ranch equipment and machinery. They will be negotiated and purchased outside of the real estate transaction. A complete inventory of personal property and ranch equipment is available by contacting Swan Land Company.
For more information about the Ranch or to schedule a showing, please contact Swan Land Company:

Mike Swan Broker/Owner

Swan Land Company

O: 406.522.7342

M: 406.570.4897

F: 406.522.0769

1185 N. 14th Suite 1

Bozeman, Montana 59715

Website: swanlandco.com
For media inquiries, please contact:

Jennifer Hobson-Hinsley

505 603 8643

Jennifer(at)jlhmedia(dot)com
ABOUT SWAN LAND COMPANY: Swan Land Company, based in Bozeman, Montana with a branch in Salt Lake City, Utah, is a client-driven ranch, farm and recreational land sales company. Swan Land Company has solidly built a reputation on integrity, intimate client interaction, unparalleled service, hard work, and extraordinary market knowledge. Founded by Mike Swan, previously the Managing Broker for the Montana office of Bates Sanders Swan Land Company, the associates of Swan Land Company have extensive real estate and ranch brokerage experience and specialize in representing sellers and buyers of premier agricultural and recreational properties throughout the Rocky Mountain West. Swan Land Companys boutique style allows it to provide superior levels of personal service leading clients through the details of each and every transaction. Through skillful execution of fiduciary responsibility and market knowledge, clients are provided with unequaled service and peace of mind.
Swan Land Company has built a solid reputation in the Rocky Mountains in handling high-profile and complex ranch and recreational property transactions. Swans listing, marketing and sale of the historic Broken O Ranch near Augusta, Montana consisting of approximately 124,000 acres offered at $ 132,500,000, placed him in the top echelon of land brokers in the U.S. and earned the 2012 Deal of the Year, according to the 2012 Spring Issue of The Land Report. His recent listing and sale of the $ 40,000,000 Lazy J Ranch in Bridger Canyon near Bozeman, Montana was also a notable transaction in the Rocky Mountain Region.
ABOUT FORKED LIGHTNING RANCH: Jane Fondas Forked Lightning Ranch will include the following:
1. River House: 9,585