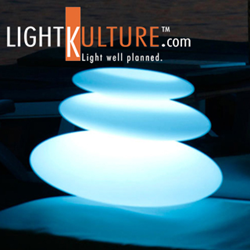 Austin, TX (PRWEB) April 24, 2014
LightKulture.com is pleased to offer the latest product introductions from Smart & Green. This young French company based at the foot of the Alps in Grenoble, has experience in engineering and functional product design. They are known for technological advances and a panache for innovation. Smart & Green's goal is to light up your life with color in smart, yet simple ways noted Susan Inderbinen, President of LightKulture.com. Providing light for everyone, everywhere, incorporates complex systems, made user friendly in everyday objects. This is the companys mission, along with their commitment to be environmentally friendly. The company philosophy is to make optimum use of light without excessive energy use, while using 100% recycled diffusers. Since they are unbreakable, they give you peace of mind and meet your needs for portable lighting.
Founded in 2008, Smart & Green manufactures portable LED lighting products, waterproof lighting and rechargeable. Cordless lighting allows you to light your surroundings according to your preferences. You can create a new mood every day. The product line uses intuitive technology that improves your daily life. The assortment covers a variety of needs and uses, from a simple sphere of floating light, to the creation of complex moods and scene setting special events lighting. Their mission is for you to enjoy your light. They create products that hold a special place in the hearts and daily lives of their users. Three new smaller shapes are now available for the US market. They are Dice LED, a 9.9 square cube, Exit LED an abstract shape of a candle flame which is 10.2 tall, and Pearl LED a 9.8 diameter ball. Any of these shapes, in these new smaller sizes, can be charged to operate cordless as a table centerpiece, placed in a garden, or floating pool lighting. All Smart & green products offer ecofriendly lighting, unlimited colors, are 100% waterproof, are remote controllable, and shock resistant.
For more information go to:

Smart & Green http://www.lightkulture.com/m-73-smart-green.aspx
Save On Smart & Green, Outdoor Portable Lighting, Now Available at LightKulture.com
When we first started LightKulture.com, we decided our niche was going to be our passion; unique, well made, contemporary, energy efficient lighting that offers value and performance. Whenever possible, we seek out LED options, as this is the future of lighting as we see it. We also carry ceiling fans and fireplaces. However, Smart & Green was the very first product we featured in 2008, just as they were opening up the US Market. Since then, the brand has become one of our most popular. We offer an extensive array of their Original and French Collections with remote accessories. For the first time ever, we wanted to reward our customers for their loyalty for Smart & Green, by partnering with the manufacturer to offer a 10% savings on all Smart & Green products through the end of April. By blending function and form, color, waterproof, cordless, rechargeable LED technology that is made of recycled materials, we know we have a winner on our hand. Now, with an extra 10% savings through the end of April, you can too noted Susan.
About LightKulture.com
At LightKulture.com our mission is to offer the finest energy efficient contemporary lighting and light fixtures from around the world. We have assembled an exciting collection of the industries most innovative decorative and architectural lighting. We are proud to offer lighting solutions for both your home and work-life environments. Simplicity in design is complicated, function makes it last. Be inspired by our range of essential designs from well respected American and European manufacturers. In todays world, energy efficient lighting is as important as eco-friendly or green lighting fixtures, such as LED or CFL lighting. We offer the very best energy efficient lighting and light fixtures, both high value LED lighting fixtures and CFL lighting fixtures in modern and contemporary styles that provide quality, innovation and authenticity.
LightKulture.com

http://lightkulture.com

Email: sales(at)lightkulture(dot)com

Tel. 941-330-0422