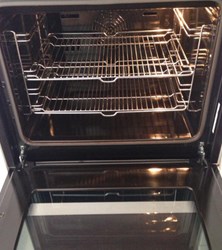 Hither Green, London (PRWEB) September 27, 2013
Matthew Hill founded this London oven cleaning company, Hither Green Oven Clean in December 2011.
His London oven cleaning company is based in Hither Green, South East London and cleans ovens for domestic and commercial customers.
When Matthew was asked What separates you from the competition? The head of the London based oven cleaners replied, Customer service and professionalism. We are also fully insured and are fully trained using the very latest cleaning techniques.
The London oven cleaner added, We use non-caustic and non-toxic cleaning products which are gentler on appliances but still have the cleaning power of the caustic chemicals used by some.
The London based oven cleaners mainly work with domestic customers but also have some commercial clients on their books including organisations such as schools, The London Ambulance Service, community centres, care homes, letting agents and local landlords. Hither Green Oven Clean cover all areas inside the M25.
Mr Hill said, Most of our enquiries come from people who struggle to get their oven as clean as they want it. After our company has finished our customers often ask how did we manage to get it to look as if it is a new oven?
For that reason Ive decided to give some tips and advice, however if they are still struggling just give us a call and we will point you in the right direction, added the London based oven cleaner.
Matthews tips are:
1. Check the Manufacturers Instructions
All ovens vary and special care should be taken when cleaning ovens to avoid damage to the appliance or the area you are cleaning in. Start by reading the manufacturers advice (which will be on the warranty documents). If the documents are not available then look online for the particular type of oven, visit their website and the advice should be available there.
2. Selecting Suitable Cleaning Products
Supermarkets and specialist shops are stocked with chemicals, solutions and sprays that promise a shiny oven that will look as good as new and all without too much scrubbing. However, I am yet to come across a product that lives up to the hype, advises Matthew of London oven cleaning company, Hither Green Oven Clean.
The only product that I would recommend is Astonish Oven and Cookware Cleaning Paste. I am not saying that it is a wonder product but with the right application and a little effort you can achieve superb results, added Matthew.
Before you clean your oven invest in some quality galvanised metal scourers and a plentiful supply of micro fibre cloths, said Matthew.
3. Protect the Area around the Oven
It can be a dirty job! I place protective, absorbent sheeting on the floor. Newspaper will suffice if you are attempting the job yourself, advised Matthew.
Take great care to cover all surrounding surfaces as any chemical contact could permanently damage your kitchen cabinets. Remember to protect yourself; rubber gloves and an apron are a must.
4. Tackling the Glass Door
This is the part of the oven that is most on show and can make a crucial difference to the overall appearance of the cleaned oven.
My advice is not to use anything too abrasive. I have often seen scratched doors that have been damaged by someone attacking them with a scourer. Regular cleaning of the internal glass with a mild degreaser and glass cleaner is a much better option than the occasional blitz with strong chemicals, recommends Matthew.
5. Removing the Door
Professional oven cleaners should always remove the door in order to gain better access and enable them to reach every nook and cranny of the ovens interior.
This is a surprisingly simple procedure. All ovens vary so refer to the manufacturer's instructions or search the Internet for video tutorials on how to do this.
6. Cleaning the Oven Interior
Firstly remove everything you can from the oven. Racks, shelves, shelf supports and trays will get in your way and will need to be dealt with separately, said Matthew.
Most oven interiors are enamel and they can be safely cleaned using a scourer. Apply a strong degreaser, being sure to follow the pack instructions and then use a scourer to scrub clean. Tackle any tough spots with Astonish paste. It is really important not to use a scourer on self cleaning surfaces inside your oven; refer to the instruction booklet for information on how to clean those he added.
7. Cleaning the Racks
This is the most difficult part of the job for the non-professional oven cleaner. I clean racks using a specialist stainless steel tank (fitted in my van) that boils the racks for an hour in a biological solution, Matthew commented.
Investing in this kind of cleaning equipment can be expensive but the next best thing is too soak your racks overnight in biological washing powder and hot water and then scrub them hard with a Brillo pad (or similar). Take care when cleaning that you dont damage any work surfaces or floors, the oven cleaning expert recommends.
8. Shining the Oven Exterior
Start with hot soapy water and have a micro fibre cloth on hand. Remove any buttons, dials and knobs so that can you can thoroughly clean them. Soak them in washing up liquid and wipe clean if they are very greasy. Clean the rest of the oven front with your cloth and soapy water. Dry with paper towels and finish by using glass cleaner and a micro fibre cloth to buff to a fantastic shine, advises Matthew.
9. Call in the Professionals
If all of the above seems like too much effort and you have better things to do then phone your local oven cleaning company for prices. Make sure they are insured and ask for references, said Matthew.
They will be able to clean your oven to a much higher standard than you can manage. You should find that once your oven has received a full professional deep clean it will be a lot easier for you to clean in the future as long as you clean it regularly, ended Matthew.
Find More Green Living Press Releases