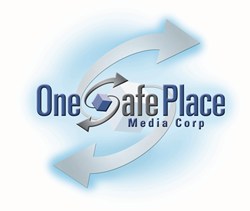 Dallas, TX (PRWEB) July 31, 2013
One Safe Place Media Corp (http://www.onesafeplace.com), one of the countrys leading offsite data protection and Online Business Backup companies, announces its continued expansion of its Certified Media Destruction solutions.
CRUSH from OSP, the companys Certified Media Destruction shredder solution, eliminates hard drives, backup tapes, laptops, DVDs, cell phones, video tape & film, memory sticks and other assorted e-waste.
With this new addition to our Crush Family, we grew our shred capabilities from 180 hard drives per hour to 1800 per hour, or 30 hard drives per minute. We are 1,000% Faster and American made! said JR Adams, Vault Operations Manager, One Safe Place.
Since the company started shredding hard drives and backup tapes in 2005, its demand and popularity have exceeded expectations.
Most people dont know what they leave on their hard drives even when they format it. Personal info leaving them vulnerable to data and identity theft and in minutes, Crush will completely eliminate that real possibility, Doug Brown, CEO, SalesFollowUp123 and Telecom Auditing Group.
One Safe Places Green commitment includes the recycling of shredded hard drives to keep them out of the local landfills.
More than 50 of the Fortune 1000 and businesses across 53 countries trust One Safe Place to protect one of their most important assets their data. Founded in 1985, One Safe Place now counts more than 25 years experience and thousands of successful disaster recovery drills for clients as reasons for its continued growth.
About One Safe Place Media Corp: One Safe Place Media Corp (OSP), based in Dallas, TX, is an offsite data protection company, specializing in Online Data Backups, Offsite Tape Storage, Video Tape & Film Archiving, and Certified Media Destruction. Founded in 1985, the company began offering the very best in offsite tape storage more than two decades ago and then added video tape and film archiving. In 1997, One Safe Place became one of the first companies in North America to provide online server backups. One Safe Place protects more than 50 of the Fortune 1000 and businesses worldwide. For more information, http://www.onesafeplace.com.
Find More Recycling Press Releases