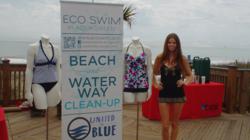 New York, NY (PRWEB) May 23, 2013
ECO SWIM BY AQUA GREEN eco swimwear made from recycled water bottles and other eco friendly materials is co-hosting a beach cleanup on Saturday June 1st, 2013 at the Cherry Grove Boat Launch in North Myrtle Beach, SC.
The beach cleanup is co-hosted by retail partner Belk, Inc., marine and wildlife conservationist Guy Harvey, and sustainable apparel and beach cleanup company United By Blue.
From 8:00 am to 11:00 am volunteers from the local community will come together to clean up their own backyard. Open and free to the public, the cleanup will provide a fun way to make a positive and tangible impact for local waterways.
ECO SWIM believes the cleanup encourages business collaboration, community development, and environmental awareness. The partnering companies share the same vision for a better planet and have come together to create meaningful action that gives back to the community and the environment.
Last year ECO SWIM BY AQUA GREEN removed over 3 tons of trash from oceans and waterways nationwide through beach cleanup partnerships like the one to be held Saturday. ECO SWIM is proud to partner with Belk, a staple and model of southern style and sustainable apparel development.
In accordance with its mission to fund and support marine-based community outreach programs, the Guy Harvey Ocean Foundation is donating a free Guy Harvey t-shirt to the first 100 volunteers on site. Additionally, the GHOF is also mobilizing local members from Guy Harvey's 15,000-strong 'Hammerhead Nation', a group of Guy's most dedicated and passionate fans.
About ECO SWIM BY AQUA GREEN
ECO SWIM BY AQUA GREEN is a new eco swimwear collection made-in-America from recycled materials and other eco friendly technologies. ECO SWIM helps to reduce your carbon footprint in the sand, while leading the way in the most sustainable, quality fashion that can make a difference. The collection is available at Belk and other leading specialty stores and better department stores.
About United By Blue
United By Blue is an apparel and beach cleanup company passionate about the ocean. Based out of Philadelphia, PA, the company is dedicated to picking up 1 lb. of trash for every product sold. United By Blues fashion and accessories can be found at select retailers and online at http://www.unitedbyblue.com.
About Belk, Inc.
Charlotte, N.C.-based Belk, Inc. (http://www.belk.com) is the nations largest family owned and operated department store company with 301 Belk stores located in 16 Southern states. Founded in 1888 by William Henry Belk in Monroe, N.C., the company is in the third generation of Belk family leadership and has been committed to community involvement since its inception. Each year, Belk gives a portion of its pretax income back to the communities it serves. In the fiscal year ending Jan. 31, 2013, the company and its associates, customers and vendors, donated more than $ 19 million to those communities. Belk stores and belk.com offer a wide assortment of top national brands and private label fashion apparel, shoes and accessories for the entire family along with top name cosmetics, a wedding registry and a large selection of quality merchandise for the home. To connect with Belk go to: Belk Get Connected. Belk is celebrating its 125th anniversary this year with numerous special promotions and events designed to express appreciation to customers, associates, vendors and other stakeholders for their contributions to the companys success. Activities will include exclusive product offerings, celebrity appearances and community service projects across the companys 16-state market area. For more information, visit belk.com/125 or belk.com/mediaroom. About Guy Harvey Ocean Foundation
About Guy Harvey Ocean Foundation
The Guy Harvey Ocean Foundation is a leader in international efforts to protect our oceans and marine environments. The GHOF advocates for sustainable fishing practices, funds inspired scientific research and supports innovative educational programs. Our principle objective is to help ensure that future generations will enjoy and benefit from a naturally balanced ocean ecosystem where fish and other marine wildlife flourish. GHOF has led or assisted include the establishment of a shark sanctuary in Bahamian federal waters, the addition of five species of sharks to Floridas protected list and the enactment of the U.S. Billfish Conservation Act. In the fall of 2012, the GHOF led a petition drive in support of the National Conservation Law in the Cayman Islands. The GHOF also assisted the launch of the first catch-and-release fishing tournament in Venezuela.