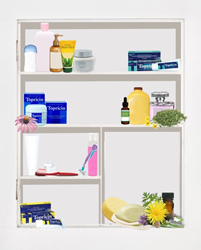 Rhinebeck, NY (PRWEB) April 17, 2014
On Earth Day–April 22, 2014–over a billion people from around the world will take action to keep the environment, their community, and their families healthy. With the focus on clean and green, Earth Day is a great time to evaluate personal care products and detox the family medicine cabinet. Topical BioMedics, Inc., offers the following bathroom detox tips for making every day safer and healthier.
Studies have shown that toxins found in commonly found in consumer personal care products may expose families to harmful chemicalsincluding everything from over-the-counter pain relief pills to toothpaste, shampoo, and moisturizers. Unfortunately, there are no warning labels on health and beauty aids, and an absence of adequate federal protection from the toxic chemicals they harbor. This is troublesome since skin is the bodys largest organ, readily absorbs anything applied to it, and then sends it moving throughout the entire system. Another alarming fact is that the National Institute of Occupational Safety and Health found that of all the chemicals used in cosmetics, nearly 900 are toxic. In fact, approximately 450 ingredients commonly used in the U.S. are banned from cosmetic use in Europe.
In 2008, lead tests on lipsticks conducted by an independent lab for the Campaign for Safe Cosmeticsa national coalition of health and environmental groups–found that 61% of all red lipsticks tested contained detectable levels of lead. Not one of them listed lead as an ingredient, even though lipstick is directly ingested into the body, which then, over time, develops toxic buildup. Lead is also found in some whitening toothpaste formulas. In addition, mercurya neurotoxicant that is hazardous to human health, and often listed as thimerosolis still being used in some cosmetics, like mascara, as well as some eye drops.
The best way to diminish exposure to toxic chemicals commonly found in commercial health and beauty products is to look for ones that are organic or that contain pure ingredients. There is a proliferation of cleaner/greener products available in the marketplace, and mainstream manufacturers are also jumping on the go-green bandwagon. But beware of chemicals disguised by deceptive marketing speakparticularly the word natural. This adjective can be used liberally and without guidelines. Therefore a product that claims to be natural may contain one or two botanical ingredients, but still harbor large quantities of synthetic chemicals and preservatives.
The solution? Read labels. They reveal everything consumers need to know, and list ingredients from the highest concentration to the lowest.
Heres a rundown of the most common toxins to look for and avoid.