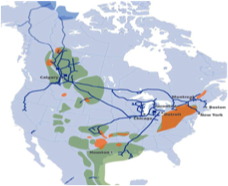 US, America (PRWEB UK) 4 February 2013
To help companies understand the complex energy market, NRG Expert has published a series of energy market research reports. If you are watching the Obama administration closely and following their energy policies, then these reports provide a valuable source of in depth data and energy information.
Here are some of the energy issues which are close to Obama's heart and the relevant energy reports published by NRG Expert:
>> Fuel reserves
Americans understand that with only 2% of the worlds oil reserves, we cannot simply drill our way to lower gas prices. Obama quoted on Real Clear Politics*. One of Obama's key aims is to decrease dependency on foreign oil. He states The US consume 20% of world oil but only have 2% of oil reserves. **

For a full understanding of global fuel reserves, NRG Expert have published an in depth database called the Power Generator Database and Report. To find out more visit http://www.nrgexpert.com
>> Natural gas
The Diamond Black Online*** states that the debate on fracking continues. On one side, environmentalists are attempting to permanently ban fracking until more studies can be done, while others are seeking to expedite the process by which it would be permitted. While it is true natural gas produces fewer carbon emissions than other fossil fuels, it can still cause water pollution and industrial water waste. To understand the technology and full environmental impact of fracking, and really get to the bottom of this debate, review NRG Expert's Reports on Natural Gas and Shale Gas.
>> Renewable energy
The President asks everyone to tell their elected officials to fight for a clean energy future****. Early in his second inaugural address, President Obama reminded us that climate change still exists, despite having largely been swept aside by more pressing matters, like the economy. While economic issues are top of everyones mind, he asks that the nation looks for ways to produce greener, renewable energy. For in depth research on the Renewables Industry, NRG Expert have produced a collection of reports including in depth research on solar energy, hydro power, biomass and more. For more information review NRG Experts Renewable Energy Market Research Reports
>> Wind energy
In an attempt to help power the state with green, renewable energy, Gov. Martin OMalley has led an effort to establish a large wind farm off the coast of Ocean City. While the Gazette***** reports that 'Gov. Martin O'Malley's proposal to establish an offshore wind farm might be poised to breeze through the General Assembly this year, but it will be at least five years before any turbines are constructed'. NRG Expert have completed an analysis of the global wind energy market. To understand this topic more thoroughly review their Global Wind Energy Report.
>> Energy Market Research Reports
NRG Expert provides cutting-edge energy market research, databases, forecasts, consultancy and analysis to the worlds leading companies, consultancies and investment houses.

They provide in-depth energy data, reports, and energy statistics in the following sectors: Power and Infrastructure; Metering & Smart Grid; Utility Guides; Fossil Fuel & Conventional Energy; Renewable Energy; Water & Waste Market; and Finance & Regulatory energy information.
If you want to get the full facts behind the energy debates and policies visit http://www.nrgexpert.com
Sources:

*Real Clear Politics 10 March 2012

Realclearpolitics.com/video/2012/03/10/obama_weekly_address_we_cant_just_drill_our_way_to_lower_gas_prices.html
**CNN 21 Jan 13,

Edition.cnn.com/2013/01/29/opinion/brune-climate-obama/index.html?iid=article_sidebar,

** CNN 23 Feb 12

Transcripts.cnn.com/TRANSCRIPTS/1202/23/se.01.html

***Diamond Black 13 Jan 13

Diamondbackonline.com/site/about.html/,

****The White House Weekly Address 3 March 12

Whitehouse.gov/the-press-office/2012/03/03/weekly-address-taking-control-our-energy-future

*****Gazette 25 Jan 13

Gazette.net/article/20130125/NEWS/130129365/-1/long-process-ahead-for-a-wind-farm&template=gazette